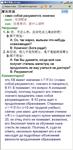 Walking Chinese expression, version 1.02

Reference edition, revised and adapted to the Lingvo.

The tutorial discusses the features of the Chinese language, methods of research, described the types of word formation and the nature of word-formation processes, idioms, synonyms, antonyms, polysemy, homonyms, foreign borrowing, ways to create new words, as well as the main trends in modern Chinese vocabulary. The publication contains a lexical material, yet not included in dictionaries and textbooks published in Russia and China. The textbook is designed for students, teachers, for students of the Chinese language itself, but also for anyone interested in the Chinese language and Chinese culture.

The directory contains about 200 commonly used expressions of modern Chinese spoken language.

Designed for students, teachers, specialists Sinologists, and for a wide range of people interested in the Chinese language.

Author / Composer: Schukin A.
09.09.2018 21:40:46
Словарь распознан GoldenDict-ом, загрузился. Контент не очень обширный - 300+ записей, конкретно контент еще не смотрел