Content: text (16 symbols)
Available: 1
Uploaded: 03.07.2020

Positive responses: 60
Negative responses: 0

Sold: 239
Refunds: 0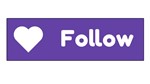 PRODUCT DESCRIPTION
After payment on the specified Twitch you will be executed paid the number of Follow subscriptions.
You need to specify the name of your Twtich account in the order filling form by type
https://www.twitch.tv/mychannel
Lead time from 20 minutes to 24 hours, keep this in mind when buying and after completing your order, we will inform you about its readiness
Attention:
- In order to start the order, after the purchase you need to contact us and report a unique code (16 characters), which is provided to you after payment and is intended solely for the seller
SELLER IS NOT RESPONSIBLE FOR THE POSSIBLE CONSEQUENCES FOR THE SPECIFIED TWITCH ACCOUNT AFTER IMPLEMENTATION OF THE SERVICE
You can also order additional services from us for HEARTHSTONE, TWITCH PRIME and much more, a list
All of our products at the link below:
https://plati.market/seller/mersin/254911
-Contact us via Plati or Skype in-house chat and we will answer all your questions!
-Thank you very much for your purchases and reviews, especially for you cumulative system of discounts!
20.05.2020 9:03:48
Все быстро, качественно)
12.05.2020 21:41:59
Спасибо бальшое я бы теье очко отлизал сделал вместо 100 - 106!! лучший ебать жоска АУФ!!!!!!!!
09.01.2020 17:15:33
Все очень быстро сделал. Рекомендую. Буду еще заказывать.
29.10.2019 18:40:57
оперативно, пришли все фолловеры

26.10.2019 19:59:48
прошло 24 часа не доставил мой товар
11.09.2019 17:05:52
Спасибо, все быстро и качественно!
02.09.2019 16:52:39
Все отлично, фолловеров получил, даже чуточку больше. Продавец ответил очень быстро. Рекомендую!
22.08.2019 21:30:57
They are throwaway accounts but still its follows, and 200 on the spot.
22.08.2019 12:48:10
Nice seller IT´S THE BEST
14.07.2019 22:12:13
fast delivery
26.05.2019 13:02:56
фоловеры пришли, все четко :))
19.05.2019 13:08:12
Спасибо, 1000 фолловер но все равно никто не смотрит.
16.05.2019 12:02:22
received!