Content: text (0 symbol)
Available: 0
Uploaded:

Positive responses: 3
Negative responses: 0

Sold: 79
Refunds: 0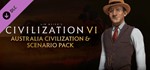 Title: Civilization VI - Australia Civilization & Scenario Pack
Genre: Strategy
Developer: Firaxis, Aspyr (Mac, Linux)
Publisher: 2K, Aspyr (Mac, Linux)
Release date: Feb. 24. 2017
activation: Russia and the CIS

In the game of Sid Meier´s Civilization VI, Australia is headed by John Curtin! Australia thrives and expands the territory inaccessible to other civilizations way: cities on coastal cages give additional housing. The development of areas on prestigious cages is increasing. John Curtin gives a boost to production in case Australia was declared war, attacked it without declaring war, or if it freed the city. The set includes the script "Provincial Tycoon". Can you make a fortune by mining gold, managing with huge herds of cattle or preserving the beauty of nature for future generations?
The set includes an Australian civilization with John Curtin, a unique unit - digger, a unique improvement - a cattle farm and a new miracle of nature:
The unique ability of civilization: the cities on the coast always give more housing. In addition, pastures activate the cultural capture of neighboring cells belonging to other civilizations and city-states. The prestige of the cell increases the production of campuses, commerce centers, sacred places and theatrical squares built on it.
The unique ability of the leader: John Curtin has the ability to "keep the civilization". Australia receives an increase in production if it is engaged in a defensive war or liberates the city.
Unique unit: digger. He receives bonuses in battle when he fights on foreign or neutral land cells adjacent to the water.
Unique infrastructure: a cattle farm - an improvement for which the social institution of the Guild is needed. The cattle farm can be improved by studying the "Steam engine" and "Rapid deployment". It provides food and produce, as well as additional food for all adjoining pastures.
The new script "Provincial Tycoon":
In this unique scenario with an emphasis on the economy, you will lead one of four colonies to explore and develop the natural wealth of Australia.
Unique units and features of the game process; no fighting between players.
Limit of moves: 60.
New miracle of nature - Uluru:
This desert natural wonder gives the neighboring cells points of faith and culture.

17.03.2019 11:52:02
Спасибо
17.03.2019 0:05:02
Все прекрасно, советую!
02.03.2019 1:47:08
Все пришло мгновенно. С активацией тоже проблем не было. Отличный магазин.