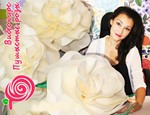 If you want to learn how to create growth compositions yourself
2.If you are hungry for beauty and unusualness
What does the course include?
Video recording sessions with the ability to download to your computer.
Patterns of patches for flowers with a diameter of 50,70,90 cm
  Consultations with the master for your work
  Detailed analysis of each homework sent to you, indicating errors and methods of elimination.
  Certificate confirming your knowledge and passing the course.
No feedback yet