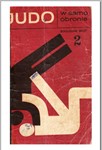 The book "Judo for self-defense" could be called "traditional judo" - with its sporty analogue is practically almost nothing to do technically.

Transformed into an ordinary power struggle, judo, more precisely, the European equivalent of this struggle has lost its attractiveness in terms of an effective self-defense. Meanwhile, judo originally created it as a variant of "average" standardized melee and practically not much was like judo, as we know it today.

Despite his very advanced age (the book was published in 1967 in Poland), proposed to the reader self-defense system is simple, clear and effective. There are no complicated techniques, no power surges, so widespread today in judo. Atemi, painful technique - that is the backbone of this system and in this respect the opinion on Bohuslav Skuta judo can be safely described as the most "traditional". Now you can meet him and you.
Title: Judo for self-defense
Author: Bohuslav Scoot
Format: PDF
Size: 15 MB.
Quality: Very good
Language: Polish
Year: 1967
No feedback yet