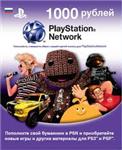 Playstation Network PSN 1000 rubles - Scan Cards

!!! This card is only for Russian accounts !!!
 
PlayStation Network PSN Card 1000 rubles (RU) Russia account for RUS (Russian version)

Instructions for use:
1. Create Russian PlayStation Network account (or use an existing)
2. Visit the Playstation Store via Shop c PlayStation3, PSP, PSP Go, a program or Media Go for PSP on your PC
3. Select the icon "Redemption Code" in the "Showcase"
4. Enter the code consisting of 12 characters, and select "Continue"
5. Follow that appear on-screen prompts to activate your payment.
22.02.2020 12:19:11
Всё ок. Рекомендую.
20.09.2017 17:36:55
Otlichno
19.03.2016 17:58:11
Все отлично .
06.03.2016 18:25:02
Спасибо большое!!! Продавец очень хорошо работает!!!